North Star's Got Spirit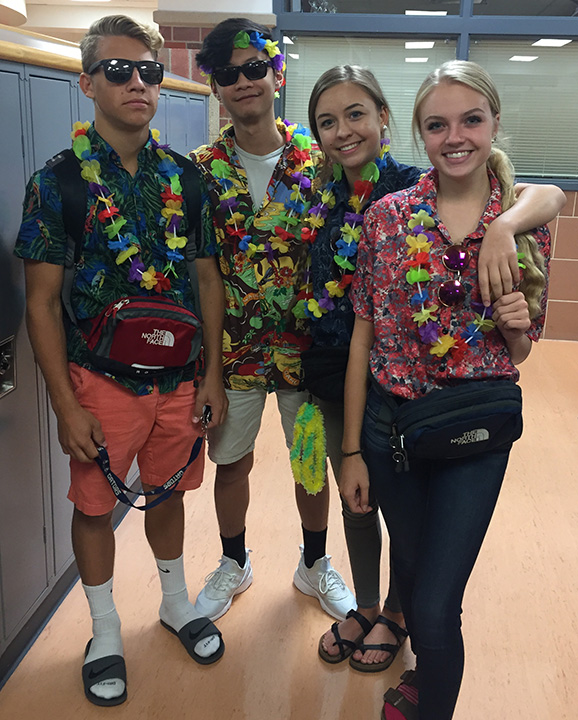 By Olivia Kriz/GG Staff Writer
Sept. 26-30 was the week before Homecoming at North Star, also known as Spirit Week.
During Spirit Week, Each day has a different theme. Sometimes each class has a different color or sometimes it's the whole school that dresses up. Whatever the theme is, students and staff are sure to remember it as a great week.
Monday was "Merica Monday," where students and staff wore red, white, and blue. North Star was supporting our country by wearing the colors of the flag. Some students wore tutu's, some wore bandanas, some even wore tiaras. The school was a sea of red, white and blue. A few students wore something to support what presidential candidate they supported.
Sophomore Jordyn Becwar said, "I think that 'Merica Monday shows pride in the USA and I really support it."
Tuesday was "Tacky Tourist" day. Students wore khaki shorts or pants,  Hawaiian shirt, lei's, sunglasses, and other accessories. The fanny pack was a popular choice.
Junior Rachelle Palacios said, "It was probably the best day of spirit week, just because everyone participated and you could get crazy with it."
On Wednesday, North Star was ready for games. It was "Sports Day." Football jerseys, basketball jerseys, hockey jerseys and many more filled the school. All kinds of teams were shown. It was a great way to show your love for athletics.
Junior Brandon Mai said, "I liked sports day a lot because, myself, I'm very athletic. I saw a lot of people participating that day with jerseys and shirts that represent the teams they like."
Thursday was "Olympic Day" where each class dressed in the different colors of the Olympic rings. Freshman wore yellow, sophomores wore red, juniors wore black, seniors wore blue, and staff wore green. The hallways were a colorful rainbow. Every color filled the school. Some students wore just a colored shirt, others wore colorful pants, shoes, some even wore capes and tutus.
Finally came  "Forecast Friday." Students and staff dressed like a certain weather or a weatherman/woman. Spanish teacher  Ms. Caitlin Wolfe went all out. She was decked out as a tornado.
Wolfe said, "I really like Forecast Friday, because it was clever. It was different than anything we had done, and it caused a lot of creativity and costumes if people dressed up. "
North Star's next Spirit Week is typically in the Spring, before Prom.