The Return of Coach Nelson-Hitz
In her second season back, Nelson-Hitz is ready for competition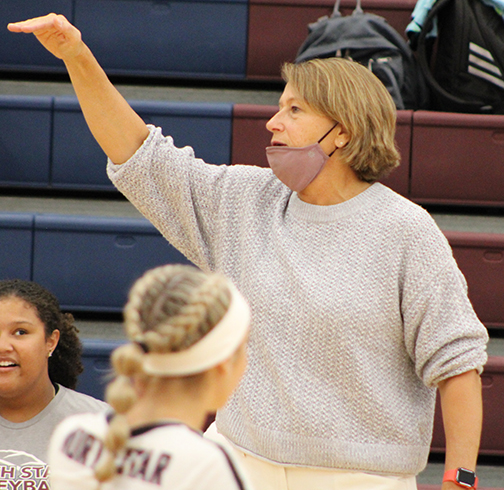 Kristi Nelson-Hitz helped open North Star in 2003 as the head volleyball coach and retired from coaching after the 2014 season to watch her daughters play college sports.
"I was still the P.E. department chair and [after retiring from teaching] I was still subbing around the building. It felt very weird to walk out the door at 3:15 and there was stuff going on in the gym," Nelson-Hitz said.
She spent the next five years as a volleyball referee. "It was hard for me to stop judging players when I would watch them," Nelson-Hitz said "I'd think to myself 'Yeah, I have a drill for that.'" 
After the 2019 season, North Star was in need of a volleyball coach. Nelson-Hitz was happy to take the helm again.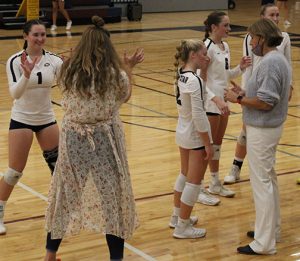 Nelson-Hitz's daughter, Katie Hitz, a 2014 graduate of North Star, had been an assistant coach during the 2018 season and would be the JV coach for the 2019 season. It was a big reason Nelson-Hitz came back.
"We coach really similar and I don't know if that's a good thing to have two big Hitz mouths in the same gym," Nelson-Hitz said. "She's not afraid to argue with me, which is a good thing, because I don't want coaches that are 'yes' people. I want coaches that will challenge me." 
Nelson-Hitz's first year back was the 2020 season, which came with it's own challenges due to COVID restrictions. The team went 10-16 last season.
Nelson-Hitz is glad they were able to put COVID aside this year and focus on volleyball.
After the teams' first competition of the season, Nelson-Hitz thinks they are in a better place than they were last year at the beginning of the season. The coaching staff feels like the entire team at all four levels will be better. 
Nelson-Hitz is excited about her young players, but she also has hungry seniors who want to "max out" this year.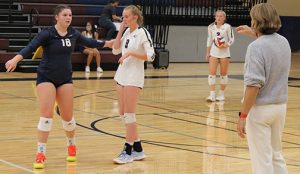 Senior Kinsley Ragland is a four-year varsity player, " I know she's super passionate and she'll do whatever it takes to get stuff done."
Senior Gabby Notter said, "She's very athletic and is gonna help us a lot this year."
Nelson-Hitz has a lot of young players she thinks will make an impact this year.  Freshman Hailey Boltz is athletic and has excellent hand eye coordination. "It all comes super natural to her," Nelson-Hitz said. Macy Roth is a sophomore who Nelson-Hitz described as a "terminator." Abby Lottman is a sophomore who Nelson-Hitz describes as vocal and not afraid to boss people around.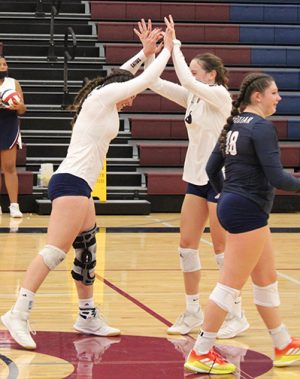 As of Sept. 21, the Gators had gone 6-12 this year and are currently ranked 20th in class A. Roth is leading the team in kills with 167. Sophomore Abbi Lottman is leading the team in assists with 267, while Notter is leading the blocking category with 39 combined blocks. Varsity defeated Omaha Central and Kearney in straight sets to win the silver pool of the Northeast Invite on Saturday, Oct. 2.
The Gators are back in action against the Islanders in Grand Island on Tuesday, Oct. 5.