Geoscience Making a BOOM with students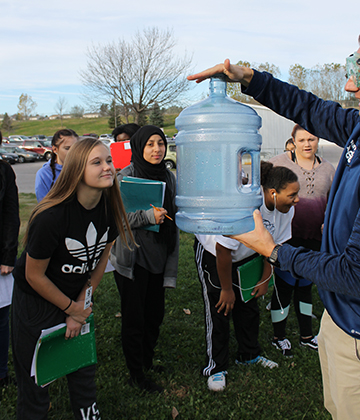 By Gator Galaxy Staff
Students gather round the jug to get a glimpse as Geoscience teacher Tony DeGrand shakes the water inside. It's a perfect day to learn about clouds.
DeGrand's students watched as he lit two matches, put them out, and let the smoke fill the jug during a cloud formation demonstration. After corking the jug, he in pumped air until eventually… POP!
Students watched the swirling clouds that formed inside the jug, asking questions about the reaction that caused it all.
Once the experiment completed, students searched the skies to find examples of different kinds of cloud formations, with the help of a Cloud Spotter wheel from the National Weather Service.