Gators Make History at Nationals
Haylee Pascoe
March 10, 2023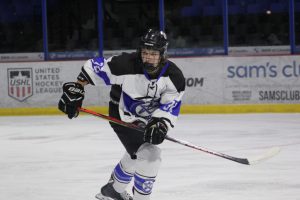 In 2022, the Lincoln Junior Stars Varsity hockey team made history in Dallas, TX at the USA Hockey National Championship. Five North Star students played on the team that year including seniors Adam Brown, Colin Kreifels, Andrew Olsen, and junior Mason White. 
The tournament lasted from March 24-28 and the Junior Stars placed third out of 18 teams from across the country. The Junior Stars won the opening game against the Hilliard Hockey Club from Ohio 4-3, with Kreifels collecting two assists, one on the game-winning-goal, and Olsen collecting one assist. 
Friday morning the team faced off against Crown Point from Indiana and lost 1-5, but regained their momentum in a 3-0 win versus the Northwest Arkansas Ice Hogs. Defenseman Adam Brown tallied two goals that afternoon, marking his first multi-goal game of his high school hockey career. 
The Junior Stars then battled against the Rushmore Thunder, and ended up winning 5-4 to punch their ticket to the semifinals. Kreifels scored a goal and an assist, with Olsen and Brown both collecting one assist each. 
Around five hours later, the players had to shake off the nerves and compete versus the Northport Huntington Tigers from New York. The Junior Stars were down 1-2 with six minutes remaining, however, while on the powerplay and with the extra player advantage, Kreifels scored to tie the game. The forward's fifth point of the championship was an important one as it sent the team into overtime with the Tigers.
The Junior Stars fell in overtime after the Tigers scored three minutes in making the final score 2-3, giving the Lincoln-based high school hockey team third place in the High School Division II tournament. That was the team's first time that they qualified for the USA Hockey National Championship. 
"I feel very proud of this team since we are the first ones in the organization to ever make it to nationals," Kreifels said. "I think the biggest contribution to our success was our teamwork." Kreifels, who has been playing hockey since he was seven, plans on continuing his passion into college playing for the UNL club hockey team. 
The Lincoln Junior Stars high school hockey team's roster is comprised of young men from all around Nebraska, including the cities of Lincoln, Omaha, Kearney, Minden, Firth, Blair, Fort Calhoun, and Louisville. The Junior Stars will be back in action later this year in the fall.