Rural Fire Departments Look for Help
While the city of Lincoln has no problem filling its fire and rescue positions, smaller communities struggle. That's because they have to rely on volunteers to help.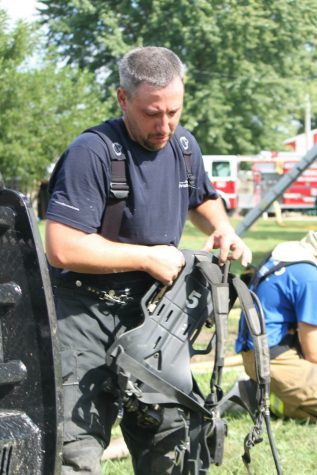 Valparaiso Volunteer Rural Fire department member Galen Polak, said to be a rural volunteer fire fighter, you need little training. "The only training that I have done was a weekend fire school class in Grand Island. We also do training the third Monday of every month." The most recent training they have done was concussion training.
Most LFR members have gone through college, programs like a two year college degree at Southeast Community College. With this degree, you can become part of LFR and be paid to be a firefighter.
Volunteer firefighters do not get paid, all though the satisfaction of being able to help someone in need outside the Lincoln city limit can be more rewarding. "When an 86 year old woman thanks you for helping her husband after he has fell, it lets you know you are doing good for the world," said Polak.  
In Lincoln, 12 percent of people are on LFR, while only 5 percent of the population in Valparaiso volunteer for VFD. Four firefighters on Valparaiso Fire Dept. are also on LFR. On VFD, there are 16 EMT trained firefighters out of the 32 in the department. In 2016 VFD 111 calls. Eighty of those calls were rescue, twenty of them were fires and the remaining eleven were other types of calls. To put that into perspective, LFR had 23,581 total calls in 2016.
If you want to become a Lincoln firefighter, visit the Southeast Community College website and explore the different classes you need to become a certified firefighter. LFR also has visit days where you can join them.
Rural fire departments will occasionally have dinners or breakfasts where you can make a small donation to have a meal. The money will go to help fund the fire equipment for the department. To be a volunteer firefighter, you have to be at least 18 years of age and attend a 3 day firefighter training. During one year of being on the department, you have to attend at least 14 percent of the calls.
Leave a Comment