Congestion Plagues Hallways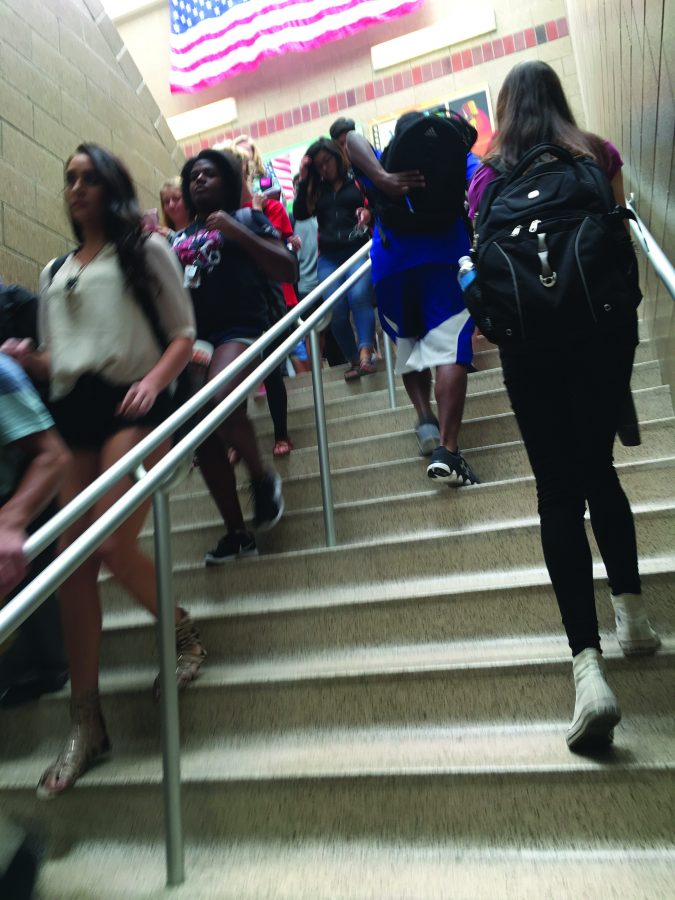 By Olyvia Hillman/GG Staff Writer
North Star has over 2,400 students, which includes teachers, and other staff. With all those people, there are several problems in the hall.
In the North Star hallways the biggest  problem seems to be the over crowding. Broc Homeyer (9) said, "The hallways are overcrowded with too many people. It's very noisy, and I can't see the clock, because I am too short. "
Kobe Smith (10) said, "The halls are so crowded that it's hard to walk in the halls, and you can't get around people. "
"People just stand there and don't walk, which makes you run into other people especially with how many people there are," senior Jenna Tederman said.
North Star Student Council is working to help fix the issues in the halls. Student Council members Yaa Baeta (12) and Laura Metzger (11) said they put arrows in the freshman hallway to try and direct people where to go. The arrows tell people to go stay on the right or left side of the hall to help  relieve congestion.
Recently, they also put up  maps of the downstairs to show where students should not stand in order to keep hallway traffic moving near the freshman lockers and the counseling office. The maps also go over the rules of the hallway and hallway etiquette.
Junior Deanna Allen said, " I haven't noticed [the signs]. I don't pay attention, and I'm sure no one else does."
Student Council plans to continue monitoring hallway traffic to come up with additional solutions.
North Star's overcrowding isn't going away anytime soon, so be respectful in the halls. Don't stand in the middle of high-traffic walkways and keep traffic moving in the right direction and everyone will get to class on time.