Girls' Wrestling Comes to North Star
This year girls' wrestling became an official NSAA sport. However, many other schools in the state already included girls' wrestling last year.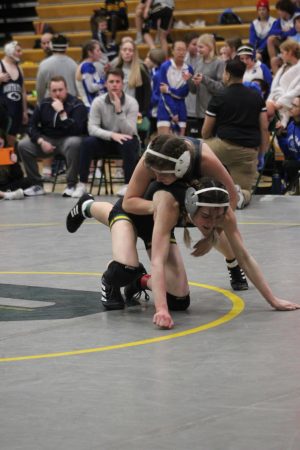 "It was originally added by NSAA last year, and so there was a process that LPS had to follow to add a new sport. It must first go through the District Office and the School Board, then they had to work together to come up with a schedule," activities director Nathan Renter said. 
In total there were six girls that wrestled this year for North Star: Azariah Valenzuela Estrada (12), Sydney Chubbuck (11), Averyle Haase (9), Deja Judd (9), and Annabellah Marsh-Tobey (9). Many heard about the opportunity from friends or coaches, for example football coach Trevor Birdzell or boys' wrestling coach Jake Froscheiser. Many of the girls pointed out that their team's motivation is what keeps them going, but wrestling is one player versus another, so it's not only essential to have the team rely on them, but it is also essential that they can rely on themselves. A high school wrestling match is six minutes long. There are a couple breaks in each round to drink some water and take a breath. So many of the girls have the mentality that even if one looks bigger or stronger than you, with enough positivity you can do it. Many of the girls such as Deja Judd (9) and Averyle Haase (9) mentioned that they do love girls'' wrestling so far not just because it's a way for them to express themselves but also because their team looks out for each other. 
However, no one can help you once you start. Seeing the other girls do good keeps the rest wanting to achieve the same. Many of these girls set goals for themselves and want to do better. "Don't be afraid to try new things" says Azariah Valenzuela Estrada (12).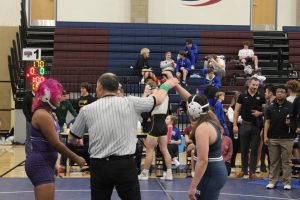 The girls were not afraid to try new things. Most of them knew this could become their passion and encourage them in many ways. It is also fun to make new memories to look back on for themselves and for the school. They have joy in being part of something this great, and we hope to see more wins. The first ever tournament of girls wrestling at Lincoln North Star was on January 6 Azariah Valenzuela Estrada (12) won a first place medal. Azariah Valenzuela Estrada (12) and Sydney Chubbuck (11) have placed in almost every tournament.